Debt Consolidation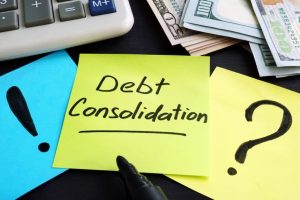 People often ask about debt consolidation. Whether consolidating your debt is a good idea depends on both your personal financial situation and on the type of debt consolidation being considered.
There are several potential benefits associated with debt consolidation. Taking this step allows you to combine multiple debts into a single monthly payment, simplifying your finances and making life easier.
1. Repay debt sooner
Taking out a debt consolidation loan may help put you on a faster track to total payoff, especially if you have significant credit card debt. Credit cards don't have a set timeline for completely paying off a balance. A consolidation loan, on the other hand, has fixed payments every month with a clear beginning and end to the loan.
2. Simplify finances
When you consolidate debt, you no longer have to worry about multiple due dates each month because you only have one payment. Furthermore, the payment is the same amount each month, so you know exactly how much money to set aside.
3. Lower interest rates
The average credit card interest rate is around 16.03 percent. Meanwhile, personal loans typically average around 11.88 percent. Of course, rates vary depending on your credit score, the loan amount, and term length, but you're likely to get a lower interest rate with a debt consolidation loan than what you're currently paying on your credit card.
4. Have a fixed repayment schedule
Use a personal loan to pay off your debt, and you'll know exactly how much is due each month and when your very last payment will be. Make only the minimum with a high-interest credit card, and it could be years before you pay it off in full.
5. Boost credit
While a debt consolidation loan may initially lower your credit score slightly, since you'll have to go through a hard credit inquiry, a debt consolidation loan may help improve it over time, because you'll be more likely to make on-time payments. Your payment history accounts for 35 percent of your credit score, so paying a single monthly bill when it's due should significantly raise your score.
Additionally, if any of your old debt was credit card-related and you keep your cards open, you'll have both a better credit utilization ratio and a stronger history with credit. Amounts owed counts for 30 percent of your credit score, while the length of your credit history accounts for 15 percent. These two categories could lower your score should you choose to close your cards after paying them off. Keep them open to help your credit score.
3 key drawbacks of debt consolidation
1. It won't solve financial problems on its own
Consolidating debt does not guarantee that you won't go into debt again. If you have a history of living outside of your means, you might do so again once you feel free of debt. To help avoid this, make yourself a realistic budget and stick to it. You should also start building an emergency fund that can be used to pay for financial surprises, so you don't have to rely on credit cards.
Dave Ramsey says, "When you consolidate your debts or work with a debt settlement company, you'll only treat the symptoms of your money problems and never get to the core of why you have issues in the first place.
Consolidating your bills isn't a magic bullet—you need to pay them off. To do that, you have to change the way you view debt!
Personal finance is 80% behavior and only 20% head knowledge. Even though your choices landed you in a pile of debt, you have the power to work your way out! You just need the right plan."
2. There may be some upfront costs
Some debt consolidation loans come with fees. These may include:
* Loan origination fees.
* Balance transfer fees.
* Closing costs.
* Annual fees.
Before taking out a debt consolidation loan, ask about any and all fees, including those for late payments and early repayment.
3. You may pay a higher rate
It's possible that your debt consolidation loan could come at a higher rate than what you currently pay. This could happen for a variety of reasons, including your current credit score.
Consumers consolidating debt get an interest rate based on their credit rating. The more challenged the consumer is on their credit rating, the higher the cost of credit.
Additional reasons you might pay more in interest include the loan amount and the loan term. By extending your loan term, your monthly payment could be less, but you may end up paying more in interest in the long run.
As you consider debt consolidation, weigh your immediate needs with your long-term goals to find the best personal solution.
The bottom line
Debt consolidation can be a good option for people who need to simplify their monthly budget or those with good credit who can qualify for a low-interest rate. However, if you're interested in a debt consolidation, also ensure that you have a plan to pay off your new loan and avoid racking up new debt in the process.