Online Banking
Get the ultimate in banking convenience with 24/7 access to your accounts! View balances, pay bills, transfer funds, and verify transactions all with one secure login. Plus, once you're signed up, you can download our mobile app and take your banking wherever you go. It's never been easier to stay on top of your finances, and you're going to love the added features of mobile text alerts and FSB Fast Pay® person-to-person payment services. This is banking at its best.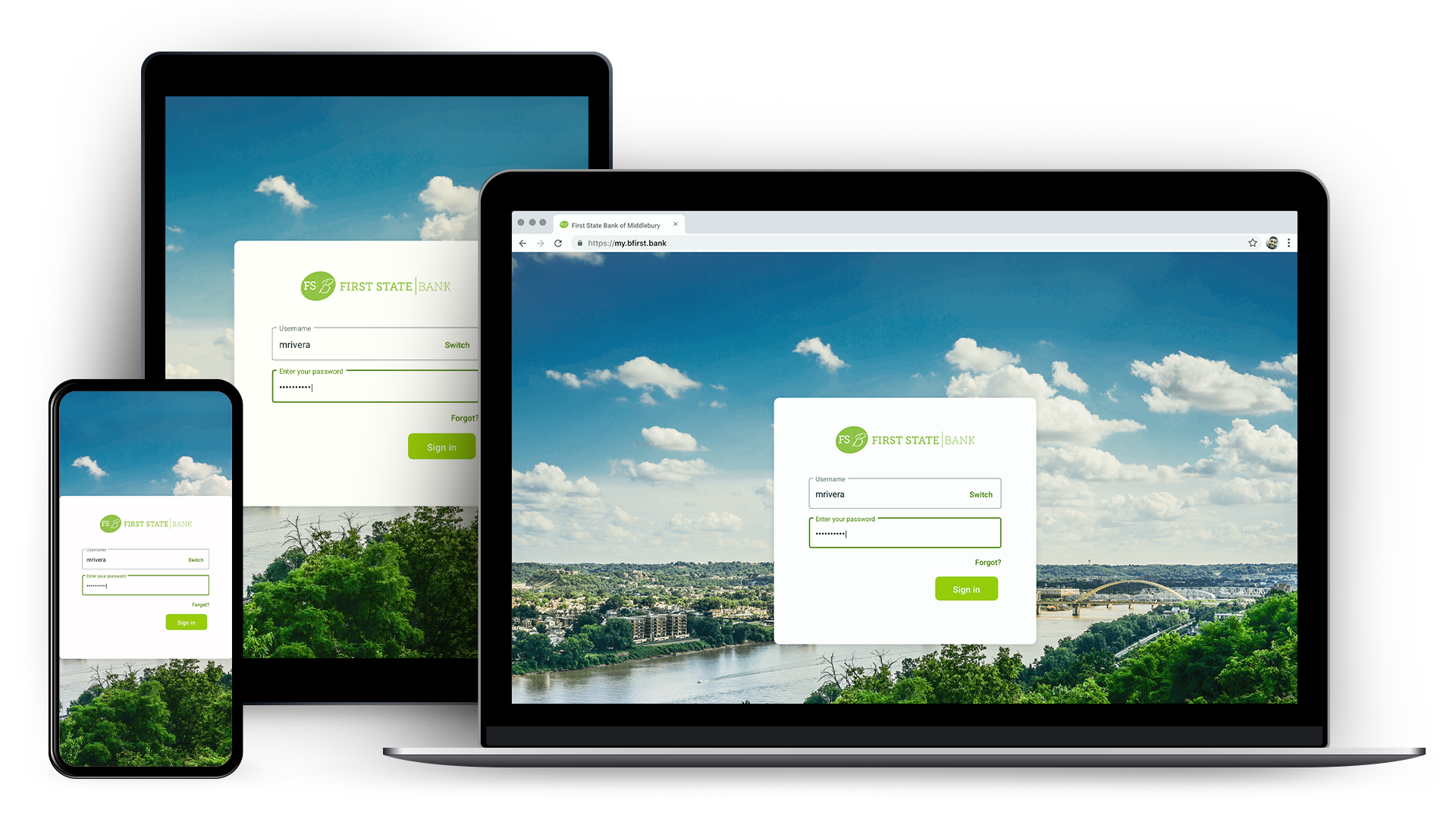 Convenient

Secure

Personal
Features and Functionality

Card Management
Switch your debit cards on and off for added security.

Transfers
Transfer funds to and from your First State Bank deposit accounts and loans.

Check Management
Deposit, view, order, and issue checks.

Set Up Alerts
Get balance, transaction, and login notifications for every account.

Add Photos
Keep track of your receipts by adding photos to your transactions.

Secure Messaging
Have a question for us? Start a secure conversation while viewing your transaction details.

Account Management
View balances, track activity, check images, and search transactions.

Pay Bills
Manage bills and schedule payments right from your desktop or app.

Pay People
Set up direct payments to family or friends.

Find Locations/ATMs
Find the nearest branch or ATM.

View Documents
View and print electronic statements, notices, and tax documents.

Pay with Zelle
A fast, safe and easy way to send money in minutes to friends, family. Learn more about Zelle
Frequently Asked Questions
How do I access digital banking?

You can access the new digital banking and your account on a desktop, laptop, mobile phone, or other internet-accessible device. Simply log in with your existing online banking credentials to both online and mobile banking. There are two access points:

Visit our website at www.BFirst.bank and click Log In to get started
Download the NEW mobile banking app from thee Google Play or Apple Store

Note: You will not be able to access the website via old bookmarks or the previous First State Bank mobile banking app.
What is 2-Factor Authentication and why is it used by the digital banking system?

Two-Factor Authentication is a security measure that allows you to request a one-time access code to log in to digital banking. The code enhances the security by creating an added layer on top of your unique username and password. This security process helps to verify you and better protect your credentials and the accounts you can access.
When I log into digital banking, do I need to get a confirmation code every time I log in?

No. Check the "Don't ask for codes again on this computer" box if you do not want to receive a confirmation code or phone call each time you log in. If you prefer to input a confirmation code with each use, you can leave the box unchecked or use the 2-Factor Authentication app to deliver the code.

Note: If you ever want to remove a device and reset your security settings, you can change them in settings once logged in to digital banking.
How can I change my phone number, email address, or primary address in digital banking?

You can update your phone number, email address, or primary address in digital banking.

Click on the User Profile icon and click "Settings"
Click Edit next to your phone, email, or address (For Mobile, when in "Settings", tap on User Profile/Name, then tap "edit" next to your phone, email, or address.
Verify your password
Edit your contact information
Click Save

Phone and email updates will happen immediately. All address updates will be reviewed by a customer service representative and you may be contacted for additional information.
How do I set up alerts in digital banking?

To create a new alert or re-enter one you may have had on our previous system:

Select the account you would like to set up an alert for
Click Alert preferences in the menu
Under Alerts

In the Balance alerts section, select Add alert.
Select Above or Below, and then input a dollar amount.
In the Alert/Notify by field, select Email, Text message, or In-app message.
Select Add Alert to save the alert
Repeat steps for Transaction alerts
Can I customize my mobile banking dashboard on multiple devices?

Yes, you can! When you customize your unique dashboard setup it will update across all your devices to give you the same experience across all your devices. To customize, just tap the dots next to the tile and select "organize dashboard".
How do I make a transfer between my accounts in digital banking?

Transfer between two First State Bank accounts in digital banking:

For desktop, Click "Transfers" > "Make a Transfer" (above the calendar) or for Mobile, tap "Transfer"
Select your To and From account and amount
Click More Options to change the frequency and date if desired
Click Submit
How do I view my account statements in digital banking?

Account statements can be downloaded from digital banking. These are only available for accounts already enrolled in eStatements.

Click on any account listed
Click on Documents from the Account Details page in the options men
Statements and Notices will be listed for each month available
How do I change the order my accounts are displayed in digital banking?

You can rearrange the order your accounts display in digital banking to reflect the sequence you want.

From the Accounts click on the three dots and click Organize Accounts
Drag and drop the accounts to rearrange the order
Click Done
How do I change my username or password in digital banking?

You can change your username or password at any time in digital banking. (The username can only be changed on desktop, not mobile).

To change username:

Select your username icon in the top right corner
Select Settings and then select Security option on the left side menu
In the Username field select Edit
Enter your current password when prompted
Change your username and select Save

To change password:

Select your username icon in the top right corner or select the menu in mobile banking
Select Settings and then select Security option on the left side menu
In the Password field select Edit
Enter your existing password, and then enter a new password when prompted
Select Save
How do I block my debit card in digital banking?

Blocking your debit card is easy in digital banking. It's just as easy to unblock it as well!

Go to the account the card is associated with, under the Card Management tile, click the toggle slider to turn the desired card off
If you wish to turn the card back on, simply click the toggle next to the blocked card to turn it on
How do I add a tag, note, or image to a transaction in digital banking?

You can add notes, tags, and images to any transaction inside of digital banking. To begin:

Click on any account
Click on Transactions (in mobile)
Select the Transaction you wish to edit and pull up the transactions details page
Click on the appropriate icon for one of the following:

Add Tags
Add Notes
Add Images

Follow the on-screen prompts to update the transactions
Close the transaction detail page or tap < Transactions in mobile

Any tags, notes, and images attached to transactions will be accessible on all devices when you log in to digital banking in the future.
How do I make a mobile deposit in digital banking?

Mobile deposit is available for all checking accounts, but you must enroll first. Mobile deposit can only be done through the mobile app. Payees will need to endorse the checks with signature/name and 'FOR MOBILE DEPOSIT ONLY'.

Select Deposit under your checking account OR select Deposit Check from the slideout menu in the mobile app
Click Enroll Account and go through the sign-up steps
Once your request has been processed and approved, tap Deposit a Check
Enter the check amount
Tap Continue
Select the account to deposit to
Take a picture of the front of the check and tap continue
Take a picture of the back of the check and tap continue
Verify the information and tap Submit
What should I do with my checks after using mobile deposit?

You should retain the check until the check has posted to your account. You can verify this by reviewing your next monthly statement.